About The Persephane Pendrake Chronicles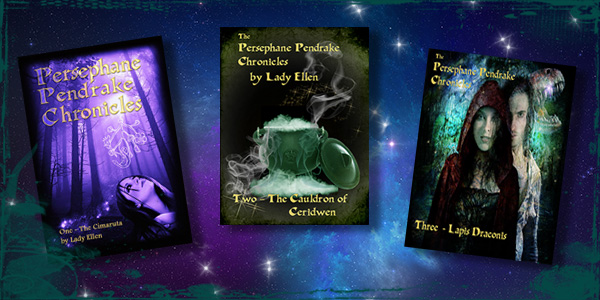 The Empersium is the Magical store developed as a results of the fantasy book series "The Persephane Pendrake Chronicles"
A description of the first three books would go something like this:
"9 Mystical Objects to rule Earth's Magic. A teen witch and wizard chosen to lead the quest. A malicious sorceress pitting all the evil she has to stop them and claim the items for herself.
By the end of this first trilogy, 3 of the Objects have been revealed and captured. Who has what?
Each Magical Object has been more and more difficult to obtain. Four more magicals have joined their team, but by the end of the third quest, one has perished and one has turned to the Dark side.
The malevolent Melanthios has been joined by two Dark wizards and one demon - a King of Hell. It's a fight to the death. Persephane, Thad and their gang, chosen to protect Raine, the future leader of White magic are absolutely not accepting conquest.
The 9 Objects will be theirs. And facing dragons, being tossed into multiverse worlds, lethal spells and sub-human beings simply is not enough to stop them. Or is it?
Buy this first collection to start the perilous journey with them..Today! Three books for the price of ONE!
If you loved Harry Potter, Rick Riordan or Cassandra Clare, you'll love the books by Lady Ellen..a new author to watch." You can visit Persephane's site here The books are available at various retailers as I've listed below:
BUY THE PERSEPHANE PENDRAKE CHRONICLES AT YOUR FAVE RETAILER
BOOK
AMAZON.COM
AMAZON.CO.UK
KOBO
iBOOKS
The Cimaruta
The Cauldron
of Ceridwen
Lapis Draconis
The Box Set
Now, the Empersium. Persy's own store of Magical things for magic-loving people like YOU. Whether you're just looking for things 'Persy' related, or are a follower of the nature beliefs, you'll find it here.
Browse through the shirts, mugs, jewelry, pillowcases, phone cases, leggings, posters. You're going to LOVE this place.
Questions?
So glad to have you here!
In Dreams and Magic,
Lady Ellen and Persy